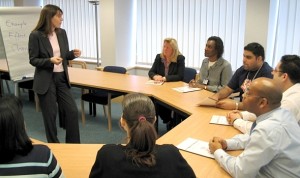 Company culture. Yeah. You've got one.
Regardless of how you define it, organizational, tribal or corporate culture is critical to your success. It drives how employees, vendors and management relate to each other and infuses itself into every stakeholder's customer interactions. That can make or break your business.
When you implement Lean Six Sigma principles, it will change your culture. The question is, do you want that to be a battle that drags on for years, or to be readily accepted and carried out? Blue Brook Consulting has developed a wildly successful Cultural Improvement Program that encompasses the three keys to developing a culture that gives your company competitive advantage. It is based on three business values:
Change management techniques
Lean Communication (using our "No Miss" Communication Skills©), and
Lean and Six Sigma principles
We can help your company's culture mean that people are on the same page. We'll certify your employees in "No-Miss" Communication Skills©. Profitability increases as your folks learn to conduct productive conversations, resolve differences, and building collaborative relationships.
Change management requires champions from the executive ranks and understanding from all the ranks. Upon certifying your team and executives in Lean and Six Sigma basic and advanced levels, benefits of being involved in a continuous Cultural Improvement program include:
Financial profitability
Recognition for helping your company improve business
Education you can use in all parts of business
Awareness of how your work style reflects positive or negative company culture and techniques to influence the culture positively
Collaboration by how you communicate ideas with your coworkers
Impact of communicating inside and outside the "No Miss" Communication Zone
Hands on experience developing expert level "No Miss" Communication skills
Implementation of a Lean Six Sigma project with measurable results and strategies for holding the gains
Personal skills to improve any company's bottom line and your earning potential
Confidence to meet challenging interpersonal situations
Market recognition as a provider and an employer of choice
Blue Brook's programs have changed the way our clients think about their work, employees, leaders, customers, even their personal lives. Blue Brook's unique approach to Continuous Improvement gives our clients a fun, common sense approach that is self-sustainable. To start reaping the benefits, contact us today.